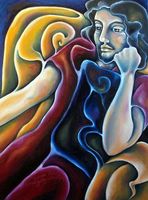 P273 Figure Between Fossil Layers
18x20" oil on canvas
Private Collection
September 13, 2000:
Working on P273,the Figure Between Fossil Layers, I thought about the relationship between thinking and the past. We are made up of all of man's experiences, and so, like a mass of conglomerate, all that we think is a recombination of what man has already accumulated, with an intrusion here and there of our own discoveries. When Jason posed for the figure, we were discussing various authors, especially philosophers. 'The unexamined life is not worth living.' How will this figure, caught between the complex detritus of the past and the impenetrable granite of the future, fill the negative space of his questioning, the black hole represented by the absence of a pillow. He has caught the angle of repose. Now he thinks. And everything around him solidifies.
September 14, 2000:
Late last night, as I was coaxing my son's face, on P273, into the form of one of my creatures, I was amused to discover that his small beard had emerged as a petal or flap of the larger pattern of his hair, which in fact has the appearance of a dark creature enveloping his head. I flattened his nose for the two visages' of my characters, one in profile, and he immediately assumed the character of one of the ancient philosophers we have been reading. An old fossil indeed, perhaps Plato himself.
October 31, 2000:
I finished P273, which I have been playing with all week. I kept pushing the 'fossil' shapes around, and eventually a series of sutures or membranes developed, connecting the figure to the fossil layers, his chair of stone. The classicist, in his thinking pose, deeply rooted in the past.
Paleozoic Series